Legal negligence is sadly far too common – and the consequences of putting your trust in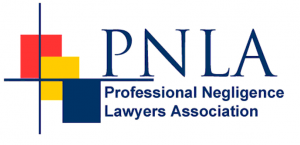 a barrister or solicitor who turns out to be negligent can be high.
Solicitors and barristers both owe their client a duty of care. The standard expected of the legal advice and assistance they offer is high due to their specialist qualifications and the trust their clients put in them. Fortunately the vast majority of solicitors and barristers are not negligent.
However with £22bn spent every year on legal advice in the UK, there are occasions when, sadly, negligent mistakes are made.
Need advice on a legal negligence claim? Call our experty professional negligence team on FREEPHONE 0800 1404544 for no strings attached FREE initial phone advice.
Types of Legal Negligence
All sorts of legal mistakes can potentially lead to professional negligence, but the six of the most common mistakes are:
1. Suing the wrong people – Ridiculous as it might sound, it can and does happen. This can happen when the action involves a company as it's the solicitor's job to make sure they issue proceedings against the correct company or person.
2. Under-settling a claim for personal injury compensation – this sort of mistake is becoming more common. Large "claims factories" employ inexperienced staff with scant supervision from knowledgeable solicitors. This can mean a client ends up accepting a compensation offer which is way below the sum which should have been offered.
3. Getting a will wrong – solicitors can get the wording of a will wrong, or follow to word it according to what the testator wanted. Solicitors sometimes also make mistakes when executing the will or having the signatures witnessed.
4. Missing deadlines – this is one of the most basic mistakes but one which keeps on happening. Depending on the type of case there are often strict deadlines which have to be met. For example, in most cases you have 3 years from the date of an accident to start a claim for personal accident compensation. If your solicitor doesn't submit your claim within that three year period, it could mean that you miss out on compensation completely.
5. Conveyancing mistakes – mistakes made while managing the buying and selling of property are one of the most common reasons why the clients of law firms claim for professional negligence. There are a lot of very routine mistakes which are sadly made such as not telling clients about restrictions on planning, not spotting rights-of-way crossing the property or failing to pick up on a mistake in the property's title.
6. Drafting errors – there are many different situations where solicitors are asked to draw up documents for you, anything from business law documents like a partnership agreement or shareholder agreement to personal documents such as a divorce agreement or compensation claim.
Sometimes a drafting error doesn't mean the client loses out financially and is easily corrected, but other mistakes can be extremely costly.
Legal Negligence – Not the Same As Poor Client Care
These acts of legal professional negligence are quite different from bad service such as not keeping the client informed of developments in a transaction or providing incomplete advice – which would not give rise to a compensation claim for legal negligence.
In order to sue your solicitor for negligence means that you have to have suffered some sort of financial loss.
The good news is that law firms must have professional indemnity insurance of at least £2m – which means there's always someone to claim against who has money to pay compensation for any legal negligence. This doesn't apply however if a solicitor or barrister was dishonest or fraudulent.
Although poor service from your solicitor is in itself not enough grounds for a professional negligence claim, it may be enough to justify complaint against the law firm. If this applies to you, then the first step is always to use the law firm's own internal complaints procedure.
If your complaint against your solicitor isn't sufficient grounds for negligence, and you don't get a satisfactory response from the law firm by using their internal complaint procedure, then you can consider taking your complaint to the Legal Ombudsman (LeO). The LeO does have the power to grant compensation against your initial solicitor if you have suffered inferior service.
Contact the Legal Ombudsman at:
Email: enquiries@legalombudsman.org.uk
Telephone: 0300 555 0333
Website: www.legalombudsman.org.uk
Complaints about barristers are handled by the Bar Standards Board who can be contacted or emailed us at assessmentcomplaints@barstandardsboard.org.uk
Your legal negligence claim – the importance of specialist legal advice
If you think that your solicitoror barrister may have made some sort of mistake and that you might have a case for professional negligence against them, it's essential that you instruct a solicitor who has a proven track record of conducting professional negligence claims against solicitors. This is not a straightforward area of the law and one in which not many solicitors specialise.
If you cannot find an expert in the local area it's best to look further afield for someone who has enough experience in this sort of case. Look online for solicitors who are members of the Professional Negligence Lawyers Association (PNLA) – this is the only industry body for solicitors specialising in this area of the law in England and Wales.
Your Legal Negligence Claim – How We Can Help
Firstly, we will assess your case and its chances of success.
We look at each case on an individual basis and judge it on its own merits to see whether or not we can help you claim compensation from your lawyer. However, even if it turns out that the negligence was down to the barrister or solicitor, you will also need to be prove that;
You have suffered a financial loss because of their actions AND
That the advice they provided was below the standard which most people could assume to be 'reasonably competent' from a barrister or solicitor.
The financial loss can be as simple as an accident compensation package which you were entitled to in an original court case which you lost due to your lawyerr mislaying a vital piece of evidence.
However, most legal negligence claims are far more complex and will require careful consideration.
No win no fee representation
Even if it looks like you have a strong legal negligence, the case may still not be straightforward. Firstly we will need to collect all the evidence in attempt to prove to their profeessional insurers that they have been negligent.
Even if that negligence is established, there are then likely to be negotiations on the level of damages. Most insurers don't rollover easily – and fighting for a fair level of compensation can prove expensive.
But there's no need to worry – for appropriate legal negligence claims, we offer no win no fee agreements – which means you don't need to worry about paying your legal costs.
Barrister negligence claims
Barristers and solicitors are fundamentally different. In short, both of them are qualified lawyers but they have different roles:
Barristers are specialists in advocacy at court, drafting legal pleadings and they can give expert legal opinion – and in general they are instructed on your behalf by your solicitor.
Solicitors advise and assist clients directly on all aspects of access to justice – which include taking cases to court proceedings, as well as transactions such as conveyancing and business law.
The difference is slowly becoming blurred. These days, some barristers are instructed directly by clients under the Direct Advice scheme – equally an increasing number of solicitors representing clients in court hearings.
When you engage the services of a barrister, you do so because you are relying on their expert knowledge. You put faith in their abilities and you trust them implicitly to represent you and help you when you're at a time of great need. When that trust is broken, it can be truly devastating.
FOR FREE NO OBLIGATION INITIAL ADVICE ABOUT SUING YOUR BARRISTER– CALL NOW ON FREEPHONE (0800) 140 4544
Can I Sue My Barrister?
Yes. Since 2000, it has been possible to bring about a negligence claim against a barrister, and barristers are now potentially liable if they provide negligent advice.
Prior to this, barristers had effective immunity from negligence claims, but this is no longer the case.
So, if you have suffered a financial loss following negligence at the hands of a barrister, we could help you claim the compensation you deserve.
Common Causes of Barrister Negligence
Barrister can be negligent for any number of reasons. The most common causes of negligence are:
The standard of advice provided by the barrister is below the standard which any reasonable person could hope to receive
Your barrister has made mistakes in drafting court documents
Your barrister fails to attend court hearings or comes to a court hearing without being fully prepared.
Your barrister has made errors in representing court or in mediation
Your barrister gives negligent advice with regards to offers and settlements or fails to consider all aspects of the financial loss you've experienced
Your barrister has failed to advise you as to deadlines in your case
Your barrister has simply failed to act on your instructions
Barrister Negligence – Initial assessment of your case
The first thing to do is for our team to look at your claim an give you an initial assessment of your chances of winning compensation
It may be that your barrister has not been negligent, but that your solicitors who instructed them were.
The Pre action Protocol in Professional Negligence Claims
The pre-action protocol for professional negligence litigation exists to help settle claims, excluding those brought against the construction industry or the medical profession, quickly and avoiding time-consuming not to say stressful and expensive court cases,
If you bring professional negligence proceedings against a professional – whether it's an individual or company – under the professional negligence protection protocol, your Lawyer is required to write to the negligent professional concerned with details of your claim and request that they notify their insurance company of the negligence claim. This letter should be acknowledged by the recipient within twenty one days, after which they are given three months to investigate the claim.
Following this three month investigation period, the professional against whom you are alleging negligence, is required to send a letter of response to confirm
• whether they wish to admit liability and offer settlement or
• whether they tend to defend the negligence claim, in which case they will have to outline the areas that are still in dispute.
At this point your Lawyer will normally discuss your best course of action with you, whether it be to accept any settlement offer that and you're out they have made, consider alternative dispute resolution such as mediation or arbitration, or commence court proceedings.
Although the process is the same as for any legal dispute, professional negligence claims can be extremely complex and this process is often the only way to recover significant losses. Contact our professional negligence lawyers today for a comprehensive review of your claim so that our specialist team can help ascertain the options available to you.
Click here to find out more about making a claim using no win no fee
Time limits for making your legal negligence claim
As in most forms of professional negligence, you have 6 years from the date of the negligent act (or the date from which you began to suffer financial loss) in which to start your professional negligence claim.
It may still be possible to claim after this time, but we strongly recommend that you take specialist legal advice about making a legal negligence claim as soon as possible. Not only do you want to avoid the risk of losing the right to claim compensation entirely, but in addition, taking early legal advice means the circumstances will be clearer in your mind and evidence almost certainly easier to collect to support your claim.
Let down by a Barrister or Solicitor? Contact us about your Legal Negligence Claim today
If you are thinking of suing your solicitor or barrister, it is crucial that you seek specialist independent legal advice before starting a claim.
Our solicitors can give you an initial view of your solicitor or barrister was negligent along with your chances of winning compensation. However, our solicitors will probably require much more information about the exact circumstances of your case before coming to a more definite view
Wherever you live in the UK, from Bournemouth to Bedfordshire, if you think you may have a claim against a negligent solicitor or barrister, contact our specialist solicitors. We can advise you either by phone or e-mail, or you can meet one of our team at one of our 4 offices in Wiltshire and Hampshire.
For a FREE initial phone advice on your Legal Negligence Claim, call
FREEPHONE 0800 1404544
use the contact form below: